May be you will be interested in other books by C.M. Stunich:
Losing Me, Finding You
by C.­M. Stunich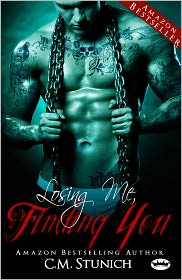 new

Specify the genre of the book on their own
Author: C.­M. Stunich
Title: Losing Me, Finding You
191 downloads, last downloaded at May 6, 2019
ISBN: 9781938623448, 9780148382626
, (Triple M Series, Book #1) a New Adult/Biker/Contemporary Romance Erotica Novel Recommended for Ages 18 and Up (Book #2, 'Loving Me, Trusting You' is available now!­) Twenty-­one year old Amy Cross's idea of a hot Saturday night is curling up with her favorite book boyfriend and secretly sneaking a bottle of her mother's wine. That is, until she meets Austin Sparks, the biker boy with a past that burns like fire and a gaze she can't look away from. Without knowing what she's doing or why she's doing it, Amy ends up on the road with Austin traveling from one city to another while learning things she's only ever read about in romance novels. At first it seems like Austin is Amy's fantasy come true, but as their journey progresses, she starts to sense that Austin is running away from something. Amy knows that she'll do whatever it takes to help him find himself. What she doesn't expect is that she'll lose herself in the process and how good it will feel to be free. "Austin,­" I whisper as he steps forward and uses the weight of his body to get me right where he wants me. I want to keep kissing forever, tasting sultry Southern boy and good manners and a filthy f****** mouth, but I think he has other plans. "If you don't want this,­" he whispers as he grazes my ear with his white, white teeth. "Then you better tell me now because once I get started, I ain't gonna be able to stop.­" How unfair, I think because really, there is no way that I can speak with scalding kisses being pressed to the side of my neck and my shoulder. Instead, another sound escapes my lips, bursting out into the air like a sigh of relief. Finally, I think. After all these years of reading about bad boys and alpha males and delicious men with ridiculous names, it's my turn. Mine. Mine. Sorry, Horse; Sorry, Kellan Kyle; Sorry, Ty McCabe; Sorry, Travis Maddox; Sorry, Gideon Cross. But I'm breaking up with all of you. "That's what I thought.­" Austin Sparks crushes me against the pool table with his hips, the roughness of his jeans rubbing against the smoothness of my thighs as he pushes up my skirt with his warm hands. "Get ready for this, beautiful.­" And then he's spinning me around, so suddenly that my mouth opens wide and my cheek (my unbruised one, thankfully) slams into the felt of the pool table.
Sorry, but some links to this book were deleted according to copyright claims, or because the book was removed from hosting.
Dear user, you can suggest a new link to this book. Help us to make General-Ebooks better!