May be you will be interested in other books by Theodora Taylor:
Wolf and Punishment
by Theodora Taylor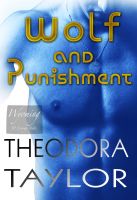 new

Specify the genre of the book on their own
Author: Theodora Taylor
Title: Wolf and Punishment
592 downloads, last downloaded at January 10, 2020
ISBN: 9780984919376
Introducing Book One of The Alaska Princesses Trilogy, and the first follow up to Theodora Taylor's bestseller, HER VIKING WOLF! Two shifters from opposite sides of the tracks. Two hot nights neither of them can forget.... The truth is, Mag Lonewolf has no business going after a girl like Janelle. She's too classy, too gentle, too beautiful for a "Bad Wolf" like him. But their attraction is undeniable, unlike any he's ever known, and he can't stay away...­even after they go down in a blaze of lies and regrets. Three years later he storms back into her life, determined to punish the she-­wolf who got away for her crimes against his heart. But can he finally put out their flame without getting burnt again? The seventh smoking hot interracial romance in the 50 Loving States series, WOLF AND PUNISHMENT is here to set your holidays on fire!
Official links & book stores
Links have been permanently deleted due to copyright infringement.