May be you will be interested in other books by Kathi S Barton:
Excessive Force
by Kathi S Barton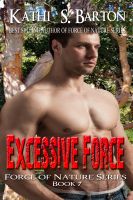 new

Specify the genre of the book on their own
Author: Kathi S Barton
Title: Excessive Force
151 downloads, last downloaded at March 21, 2019
ISBN: 9781629890586, 9780045560271
Reid will protect his mate at any cost―whether she wants it or not. When Ethan kidnaps his mate, Reid and Austin band together with the vampires to plan her rescue and wipe out this vermin once and for all. Reid and Jodi are an Excessive Force, but will it be enough to defeat this powerful being? Find out in the 7th installment of the Force of Nature Series―Excessive Force
Official links & book stores
Links have been permanently deleted due to copyright infringement.