May be you will be interested in other books by Julie Bozza:
Of Dreams and Ceremonies
by Julie Bozza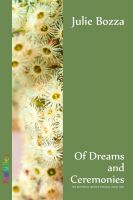 new

Specify the genre of the book on their own
Author: Julie Bozza
Title: Of Dreams and Ceremonies
30 downloads, last downloaded at January 11, 2019
ISBN: 9780045544585
It seemed like a great idea at the time... Aussie Dave Taylor followed Nicholas Goring to England, and they've become engaged. Now Dave has to cope with a mansion of family and servants, making wedding plans and visa applications, and wondering why on earth he'd want to wear a 'mourning suit'. He's not sure if it will prove any easier, but Dave would love to just skip ahead to the honeymoon...
Links have been permanently deleted due to copyright infringement.