May be you will be interested in other books by Angela Castle:
Galactic Treasure
by Angela Castle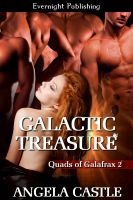 new

Specify the genre of the book on their own
Author: Angela Castle
Title: Galactic Treasure
169 downloads, last downloaded at June 12, 2019
ISBN: 9781771303378, 9780044420606
The Fire Bond Brothers, Bir, Zay, Tev and Niz have been hired to guard an alien Ambassador, but they get more than they bargained for with the appearance of a shapely, redheaded human female. Shes owned by the ambassador...­but not for long if they have their way. Kidnapped from Earth and sold as a pet, Ruby MacTavish, causes her new owner nothing but trouble, until four large, red sexy aliens walk in. Their touch awakens burning passions and she falls under their seductive spell. Before their plans can be set in motion, Ruby finds herself in grave danger as she stops the Ambassador from cheating another alien race. Now her men must hurry to her rescue and keep her safe or risk losing her forever. Be Warned menage sex MFMMM, anal play
Official links & book stores
Links have been permanently deleted due to copyright infringement.