May be you will be interested in other books by Brenda Hiatt:
Starstruck
by Brenda Hiatt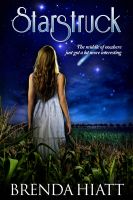 new

Specify the genre of the book on their own
Author: Brenda Hiatt
Title: Starstruck
30 downloads, last downloaded at January 18, 2019
ISBN: 9781940618012, 9780148390201
An orphaned astronomy geek dreams of escaping her tiny town and becoming somebody and then the hot new quarterback befriends her. But strange things happen: her acne clears up, her eyesight improves, and when they touch, sparks fly—literally! Soon she discovers secrets that change her humdrum life forever and expose her to deadly perils. The middle of nowhere just got a lot more interesting!
Links have been permanently deleted due to copyright infringement.