May be you will be interested in other books by Becky Barker:
Chameleons
by Becky Barker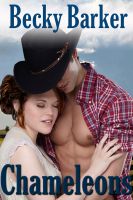 new

Specify the genre of the book on their own
Author: Becky Barker
Title: Chameleons
8 downloads, last downloaded at July 27, 2018
ISBN: 9781452430362, 9781419904189, 9780012749555
Ryan Havens appears to be a cowboy who's down on his luck. Erica Smyth appears to be a barmaid with limited skills. What neither of them wants the other to know is their true identity. Each plays the part of a chameleon. Their relationship undergoes many changes, beginning with prickly animosity and growing into a deep, sensual love affair. Now all they have to worry about is the truth.
Official links & book stores
Links have been permanently deleted due to copyright infringement.