The Master's New Toy (Book I & II)
by Kelex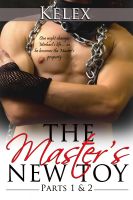 new

Specify the genre of the book on their own
Author: Kelex
Title: The Master's New Toy (Book I & II)
27 downloads, last downloaded at November 29, 2016
ISBN: 9781301043996, 9780044205234
Michael Monroe yearns for darker passions his everyday life can't give him. A trip to a BDSM club loses him a girlfriend, but earns him a master. He meekly accepts the humiliation of collaring and possession, realizing it's what he's truly wanted all his life.
Official links & book stores
Links have been permanently deleted due to copyright infringement.