May be you will be interested in other books by Jane Lovering:
Please Don't Stop The Music
by Jane Lovering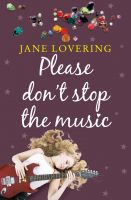 new

Specify the genre of the book on their own
Author: Jane Lovering
Title: Please Don't Stop The Music
11 downloads, last downloaded at July 24, 2016
ISBN: 9780011241838
Jemima Hutton is determined to build a successful new life and keep her past a dark secret. Trouble is, her jewellery business looks set to fail - until enigmatic Ben Davies offers to stock her handmade belt buckles in his guitar shop and things start looking up, on all fronts. But Ben has secrets too. When Jemima finds out he used to be the front man of hugely successful Indie rock band Willow Down, she wants to know more. Why did he desert the band on their US tour? Why is he now a semi-­recluse? And the curiosity is mutual - which means that her own secret is no longer safe ... An intriguing dark tale with plenty of humour to lighten the read.
Links have been permanently deleted due to copyright infringement.