May be you will be interested in other books by Eve Langlais:
Bunny And The Bear
by Eve Langlais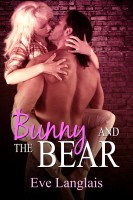 new

Specify the genre of the book on their own
Author: Eve Langlais
Title: Bunny And The Bear
2790 downloads, last downloaded at July 3, 2019
ISBN: 9780011462172
Series : Book 1 of "Furry United Coalition"
Bears and bunnies aren't supposed to mix, or that's what Chase keeps telling himself when his bouncy new neighbor won't stay out of his business-­and his mind. However, the more he gets to know his overly perky neighbor, the more he craves her-­naked in his grasp-­a desire worse than his addiction to honey and pie.­Miranda's on a mission for the Furry United Coalition, and it involves secretly guarding one grumpy ol' bear. Staying focused on the job isn't easy when all she can think about is turning his frown upside down, a task made harder when she gets a glimpse of his passion. When she hears about his theory on woodland creatures and predators not mixing, she thinks all is lost, but she didn't count on a bear's curious nature-­and possessive need.
Links have been permanently deleted due to copyright infringement.