May be you will be interested in other books by Eve Langlais:
Accidental Abduction
by Eve Langlais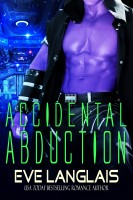 new

Specify the genre of the book on their own
Author: Eve Langlais
Title: Accidental Abduction
1726 downloads, last downloaded at June 6, 2019
ISBN: 9780986915420, 9780011299549
A boyfriend's attempted murder leaves Megan floundering in the ocean. Sinking without hope, the bright light she sees in the night sky isn't her doorway to heaven, but rather the beginning of her accidental abduction by a space pirate. While thankful of his rescue, Megan stays true to form and just can't keep her mouth shut, even when he keeps threatening to kill her--­or auction her off to the highest bidder. Even odder, despite her decision to not get involved with her wickedly hot captor, she can't help craving his touch. Tren retired from his job as a mercenary so he could enjoy life, but he never counted on the boredom of normalcy. The acquisition of rare items has somewhat filled the void, but his accidental abduction of an outspoken earthling, who doesn't know when to shut up, turns his life upside. Her fiery spirit draws him while at the same time drives him insane. Struggling with his urges, he must decide-- throttle her barbarian neck or take her as his mate? His feelings become crystal clear when an enemy thinks to steal her, and he realizes he'll do to get her back. Warning: Contains mature subject mature. Reader discretion is advised. Each book in the Alien Abduction series can be read as a stand alone but for total reader enjoyment, it is recommended you read them in order.
Official links & book stores
Links have been permanently deleted due to copyright infringement.