May be you will be interested in other books by Progressive Management:
21st Century Adult Cancer Sourcebook: Hypopharyngeal Cancer - Clinical Data for Patients, Families, and Physicians
by Progressive Management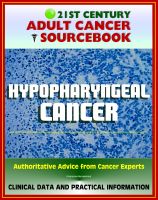 new

Specify the genre of the book on their own
Author: Progressive Management
Title: 21st Century Adult Cancer Sourcebook: Hypopharyngeal Cancer - Clinical Data for Patients, Families, and Physicians
259 downloads, last downloaded today
ISBN: 9781465984531, 9780032812987
Authoritative information and practical advice from the nation's cancer experts about hypopharyngeal cancer includes official medical data on signs, symptoms, early detection, diagnostic testing, risk factors and prevention, treatment options, surgery, radiation, drugs, chemotherapy, staging, biology, prognosis, and survival, with a complete glossary of technical medical terms and current references. Starting with the basics, and advancing to detailed patient-­oriented and physician-­quality information, this comprehensive in-­depth compilation gives empowered patients, families, caregivers, nurses, and physicians the knowledge they need to understand the diagnosis and treatment of hypopharyngeal cancer. Comprehensive data on clinical trials related to hypopharyngeal cancer is included - - with information on intervention, sponsor, gender, age group, trial phase, number of enrolled patients, funding source, study type, study design, NCT identification number and other IDs, first received date, start date, completion date, primary completion date, last updated date, last verified date, associated acronym, and outcome measures. Hypopharyngeal cancer is a disease in which malignant (cancer) cells form in the tissues of the hypopharynx. The hypopharynx is the bottom part of the pharynx (throat). The pharynx is a hollow tube about 5 inches long that starts behind the nose, goes down the neck, and ends at the top of the trachea (windpipe) and esophagus (the tube that goes from the throat to the stomach). Air and food pass through the pharynx on the way to the trachea or the esophagus. Most hypopharyngeal cancers form in squamous cells, the thin, flat cells lining the inside of the hypopharynx. The hypopharynx has 3 different areas. Cancer may be found in 1 or more of these areas. Use of tobacco products and heavy drinking can affect the risk of developing hypopharyngeal cancer. Eating a diet without enough nutrients or having Plummer-­Vinson syndrome is also a risk factor. Possible signs of hypopharyngeal cancer include a sore throat and ear pain. Extensive supplements, with chapters gathered from our Cancer Toolkit series and other reports, cover a broad range of cancer topics useful to cancer patients. This edition includes our exclusive Guide to Leading Medical Websites with updated links to 81 of the best sites for medical information, which let you quickly check for updates from the government and the best commercial portals, news sites, reference/textbook/non-­commercial portals, and health organizations. Supplemental coverage includes: Levels of Evidence for Cancer Treatment Studies Glossary of Clinical Trial Terms Clinical Trials Background Information and In-­Depth Program Clinical Trials at NIH How To Find A Cancer Treatment Trial: A Ten-­Step Guide Taking Part in Cancer Treatment Research Studies Access to Investigational Drugs Clinical Trials Conducted by the National Cancer Institute's Center for Cancer Research at the National Institutes of Health Clinical Center Taking Time: Support for People with Cancer Facing Forward - Life After Cancer Treatment Chemotherapy and You
Official links & book stores
Sorry, but some links to this book were deleted according to copyright claims, or because the book was removed from hosting.
Dear user, you can suggest a new link to this book. Help us to make General-Ebooks better!