May be you will be interested in other books by Ranae Rose:
Demon of Mine
by Ranae Rose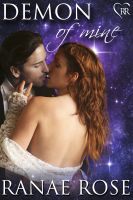 new

Specify the genre of the book on their own
Author: Ranae Rose
Title: Demon of Mine
7 downloads, last downloaded at May 29, 2017
ISBN: 9781465726629, 9780032874022
He's the mysterious heir to an industrial empire. She's a dying housemaid. The secrets that lie between them refuse to be kept forever. Elsie always considered her attraction to Damon 'Demon' Remington to be a guilty pleasure, but when a strange illness begins to crumble the comfortable life she's built in the Remingtons' shadow, her future is threatened, along with her beliefs about her tragic past. Accused of a blue-­blooded murder, Damon is both London's most notorious devil and the guardian angel from Elsie's childhood. Her testimony may save him from being convicted…if she can bring herself to confess that she hid in his bedroom on the night of the crime and why. His preternatural secret can save her from the sickness that's consuming her, but salvation comes at a price – the sacrifice of her humanity, and a marriage that will last for the rest of their immortal lives. Demon of Mine is an erotic Regency vampire romance (for adult readers only). Full-­length novel (approx. 86,­000 words).
Official links & book stores
Links have been permanently deleted due to copyright infringement.