May be you will be interested in other books by Kelley Armstrong:
Forbidden
by Kelley Armstrong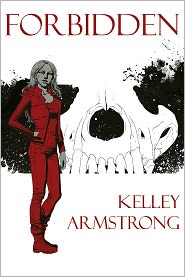 new

Specify the genre of the book on their own
Author: Kelley Armstrong
Title: Forbidden
44 downloads, last downloaded at May 10, 2017
ISBN: 9781596065758, 9780015763237
The team-­spirit sign by the side of the highway seems a good omen to loner Morgan Walsh, as he drives to what could be the most important visit of his life—a chance to join the North American Pack. Then he wakes naked in the woods, surrounded by wolf tracks and a ring of suspicious cops. The situation only gets worse when he's bailed out by Alpha-­elect Elena Michaels and Clayton Danvers, her terrifying enforcer and mate. Disappointed that such a promising young werewolf risked exposing them, Elena isn't expecting anything from the pesky retrieval job except some much-­needed alone time with Clay. Instead, she finds a different kind of evil stalking the streets and forests of Westwood, New York. Trapped in town by a snowstorm and sabotage, Elena, Clay and Morgan must find the mysterious threat before it sets its sights on them.
Links have been permanently deleted due to copyright infringement.