May be you will be interested in other books by Jean Sasson:
The Complete Princess Trilogy: Princess; Princess Sultana's Daughters; and Princess Sultana's Circle
by Jean Sasson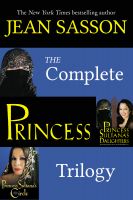 new

Specify the genre of the book on their own
Author: Jean Sasson
Title: The Complete Princess Trilogy: Princess; Princess Sultana's Daughters; and Princess Sultana's Circle
65 downloads, last downloaded at January 27, 2019
ISBN: 9781301440733, 9780015924980
For the first time, the New York Times bestselling PRINCESS books are available in one ebook. IT ALL BEGAN WITH PRINCESS, called "Absolutely riveting...­" by People magazine. The first book in this nonfiction trilogy describes the true life of Princess Sultana, a princess in the royal house of Saudi Arabia where she lives in a "gilded cage" with no freedom and no control over her own life. The saga continues with PRINCESS SULTANA'S DAUGHTERS called "Another page turner...­" by Publishers Weekly. DAUGHTERS continues the extraordinary story of Princess Sultana. Gripping and personal, DAUGHTERS recounts the lonely battle of a Princess who is attempting to secure freedoms for her daughters. The third and last book completes the PRINCESS TRILOGY, called a "Political rallying cry....­" by Publisher's Weekly. CIRCLE paints a horrifying reality for women of the desert kingdom. As Sultana battles for a life of dignity, she saves other women from servitude. THE PRINCESS TRILOGY is the testimony of a woman of indomitable spirit and great courage. You have never read a story like Sultana's, and you will never forget her or her Muslim sisters. A New York Times bestseller, PRINCESS was named one of the 500 Great Books by Women since 1300. It was also an Alternate Selection of the Literary Guild and Doubleday Book Club and a Reader's Digest Selection. Jean's first book based on her eye witness reporting on the invasion of Kuwait by Iraqi troops was an immediate bestseller. Shortly thereafter she became a full-­time writer. Her next three books, PRINCESS, PRINCESS SULTANA'S DAUGHTERS, and PRINCESS SULTANA'S CIRCLE, became international sensations as they were the first books to bring to the western world the shocking stories about life for women in Saudi Arabia. Jean is also the author of MAYADA, DAUGHTER OF IRAQ, about the prison experiences of an Iraqi journalist praised by Saddam Hussein; LOVE IN A TORN LAND: The True Story of a Freedom Fighter's Escape from Iraqi Vengeance which tells the story of a beautiful Kurdish woman; GROWING UP BIN LADEN: Osama's Wife and Son Take Us into Their Secret World; and FOR THE LOVE OF A SON: One Afghan Woman's Quest for Her Stolen Child. Her work has been featured in People, Vanity Fair,­The New York Times, The Washington Post, The New Yorker, The New York Post, The Sunday London Times, The Guardian, CNN, FOX, NBC, and many other news organizations. Still traveling the world, Jean has made her homebase in Atlanta, Georgia where she is a passionate animal rights and women's rights supporter. PRAISE FOR THE NEW YORK TIMES BESTSELLER PRINCESS: "A chilling story...­a vivid account of an air-­conditioned nightmare...­" --­Entertainment Weekly "Must-­reading for anyone interested in human rights.­" --­USA Today "Shocking...­candid...­sad, sobering, and compassionate...­" --­San Francisco Chronicle
Official links & book stores
Links have been permanently deleted due to copyright infringement.